September
6:00pm at Mystery to Me!
This month's book to be discussed / El libro de septiembre: LA DISTANCIA ENTRE NOSOTROS by Reyna Grande
This month we will discuss our read in Spanish! / Ese mes nos hablamos en español!
Wednesday, September 25th
6:00p at Mystery to Me!
This month's book: THE MALTESE FALCON by Dashiell Hammet
The Mysterious Journey of Waking Up: WHO AM I?
Author and artist, Heather Williams, brings the first in a series of drawing events to Mystery to Me!
Spots are limited! Be sure to reserve yours here!
7:00p
About the Event
Based on the principals in her book, Drawing as a Sacred Activity, and inspired by the recent tragedies in our nation and world, Heather Williams will guide attendees through intuitive drawing exercises that begin the journey to self-realization. No prior or practiced experience in drawing is required, and basic materials will be provided! All you need to bring is your intuition and a willingness to think some big thoughts.
About the Author
Heather C. Williams began drawing early in her life. It was her way to learn about the world around and within her. She earned her Bachelor's Degree in Art and Humanities at Wisconsin State University-Oshkosh and immediately set off in search of a teacher to "Wake-Up" and learn more about the deeper Self. You can learn more about Heather at her website!
October
Author Visit: David Haznaw
7:00p
About the Book
A Year In Words is the first book by David Haznaw, who began writing creative non-fiction in 2013, when he challenged himself to write an essay every morning for an entire year. In that time, Haznaw wrote nearly a half-million words, and sticking with the "year" theme, the book contains 52 essays (get it, 52 weeks in a year?), many of which came out of that first year.
About the Author
David Haznaw has been writing his entire career, which has spanned more than three decades. Starting as a reporter for his hometown newspaper, The Watertown (WI) Daily Times, David's writing has spanned a number of disciplines, from daily news, to public relations, advertising, and corporate and commercial video productions.
Mark Pryor discusses his Hugo Marston Mystery Series
7 pm
Mark Pryor is a British mystery writer who writes crime fiction mostly set in Paris, but also in London and Barcelona. The Hugo Marston series features a former FBI profiler who is now the head of security at the US Embassy in Paris. Pryor describes Hugo as "a rather old-fashioned kind of hero."
There are currently eight books in the series, the first was published in 2012.
About The Bookseller (Book #1)
"Pryor's steady and engrossing debut combines Sherlockian puzzle solving with Eric Ambler-like spy intrigue. With a cast of characters you want to know better and a storyline cloaked in World War II betrayals...the author winningly blends contemporary crime with historical topics." -- Library Journal Starred Review
About The Book Artist (Book #8, 2019):
Hugo Marston, head of security for the U.S. Embassy in Paris, puts his life in danger when he investigates the murder of a celebrated artist, all the while fending off an assassin looking to settle an old score against him. Hugo Marston accompanies his boss, US Ambassador J. Bradford Taylor, to the first night of an art exhibition in Montmartre, Paris. Hugo is less than happy about going until he finds out that the sculptures on display are made from his favorite medium: books. Soon after the champagne starts to flow and the canapes are served, the night takes a deadly turn when one of the guests is found murdered. Hugo lingers at the scene and offers his profiling expertise to help solve the crime, but the detective in charge quickly jumps to his own conclusions. He makes an arrest, but it's someone that Hugo is certain is innocent. Meanwhile, his best friend, Tom Green, has disappeared to Amsterdam, hunting an enemy from their past, an enemy who gets the upper hand on Tom, and who then sets his sights on Hugo. With an innocent person behind bars, a murder to solve, and his own life in danger, Hugo knows he has no time to waste as one killer tries to slip away, and another gets closer and closer.
Pryor has also written two novels set in Austin, Texas, Hollow Man (September, 2015) and Dominic (January 2018). They are psychological thrillers.
In real life Mark Pryor grew up in Hertfordshire, England, and now lives in Austin, Texas with his wife and three young children. Click on his name here for a link to his bio.
Madison Storytellers: Books That Changed My Life
Madison Storytellers brings live storytelling to Mystery to Me!
Reserve your seat here!
7:00pm
The Madison Storytellers bring live storytelling to Mystery to Me, featuring five phenomenal stories about "Books that Changed My Life"! The storytellers and books featured in this evening's event are:
ALEXANDRIA DELCOURT - One Hundred Years of Solitude (Gabriel Garcia Lorca)
ALI MULDROW - Pleasure Activism (Adrienne Maree Brown)
BILL STORK - It's Not About the Bike (Lance Armstrong)
HAYWOOD SIMMONS - The Egoscue Method of Health Through Motion... (Peter Egoscue)
MUIRREYAH DE LA O - Smashed: Story of a Drunken Girlhood (Koren Zalickas)
Reserve your seats on Eventbrite!
Joshua D. Mezrich, M.D., When Death Becomes Life
In partnership with the Wisconsin Book Festival, Mystery to Me is proud to be the official bookseller for Josh Mezrich's When Death Becomes Life!
7:00p at the Discovery Building, DeLuca Forum
About the Book
The miracle of organ transplants straddles the line between heartbreak and hope—one person's life extended through the tragedy of another's loss. Joshua D. Mezrich, a transplant surgeon at the University of Wisconsin, witnesses this complex miracle with everyday regularity, and in his eloquent and illuminating new book, When Death Becomes Life: Notes from a Transplant Surgeon this dedicated doctor and elegant writer weaves stories from his own awe-inspiring work into a history of the medical advances that have made the extension of many lives possible.
Mystery to Me at the Discovery Building!
Mystery to Me is proud to be the official bookseller for all Wisconsin Book Festival events at the Discovery Building! To learn more about the festival, follow this link! For a complete list of authors, books, and programs where Mystery to Me will be selling books, check out the schedule below!
10:00am: Korwin Briggs, The Invention Hunters
Learn about machines the fun way! The Magic School Bus meets The Way Things Work in this kid-friendly guide to understanding the basics of simple machines, perfect for budding engineers. The Invention Hunters travel the globe in their flying museum collecting the world's greatest inventions! Today they've landed in a construction zone. These silly scientists think they've stumbled on incredible specimens of everything you'd never find at a building site, from roller skates and pogo sticks to swords and race cars. But what they really discover–with a kid as their guide–is how simple machines like pulleys, cranks, and levers are used to engineer tools ranging from jackhammers to dump trucks…and even toilets! Using simple explanations and diagrams and a heaping helping of humor, the Invention Hunters make the perfect companions for curious kids who are ready to learn about science, physics, engineering, history, and more.
11:00A: Dean Robbins, The Astronaut Who Painted the Moon
Journey to the moon on the Apollo 12 mission with Alan Bean, the fourth astronaut to walk on the lunar surface and the only artist to paint its beauty firsthand! As a boy, Alan wanted to fly planes. As a young navy pilot, Alan wished he could paint the view from the cockpit. So he took an art class to learn patterns and forms. But no class could prepare him for the beauty of the lunar surface some 240,000 miles from Earth. In 1969, Alan became the fourth man and first artist on the moon. He took dozens of pictures, but none compared to what he saw through his artistic eyes. When he returned to Earth, he began to paint what he saw. Alan's paintings allowed humanity to experience what it truly felt like to walk on the moon. Journalist and storyteller Dean Robbins's tale of this extraordinary astronaut is masterful, and artist Sean Rubin's illustrations are whimsical and unexpected. With back matter that includes photos of the NASA mission, images of Alan's paintings, and a timeline of lunar space travel, this is one adventure readers won't want to miss!
12:00P: Azra Raza, The First Cell
In the spring of 1998, acclaimed oncologist Azra Raza had been treating leukemia patients for nearly two decades. But it wasn't until her own husband was diagnosed with, and eventually died from, leukemia that she realized how unbearable the disease could be. From the fear of an unexpected lump, through torrential sweats, horrible lesions, and excruciating pain, to his last moments with their young daughter, Dr. Raza bore witness—as so many have—to her husband's deterioration at the hands of the disease and the drugs used to treat it. And she did it knowing that his likelihood of survival was close to zero.
1:30P: Amir Alexander, Proof!
An eye-opening narrative about how geometric principles fundamentally shaped our world. On a cloudy day in 1413, a balding young man stood at the entrance to the Cathedral of Florence, facing the ancient Baptistery across the piazza. As puzzled passers-by looked on, he raised a small painting to his face, then held a mirror in front of the painting. Few at the time understood what he was up to; even he barely had an inkling of what was at stake. But on that day, the master craftsman and engineer Filippo Brunelleschi would prove that the world and everything within it was governed by the ancient science of geometry.
3:00P: John Hildebrand, Long Way Around
All rivers are connected . . .
So begins John Hildebrand's unforgettable journey through America's heartland in a small boat. Inspired by tales of a mythic Round River, a circular stream where "what goes around comes around," he sets off to rediscover his home state of Wisconsin. He finds a place in the midst of an identity crisis, torn by political divisions and the widening gulf between city and countryside.
Cobbling rivers together, from the burly Mississippi to the slender wilds of Tyler Forks, Hildebrand navigates the beautiful but complicated territory of home. In once prosperous small towns he discovers unsung heroes—lockmasters, river rats, hotelkeepers, mechanics, environmentalists, tribal leaders, and perennial mayors—struggling to keep their communities afloat. Hildebrand charts the improbable oxbows along the course of history, which is neither a straight line nor inevitable. In Long Way Round we find possibility around the next bend.
4:30P: James Geary, Wit's End
Much more than a knack for snappy comebacks, wit is the quick, instinctive intelligence that allows us to think, say, or do the right thing at the right time in the right place. In this whimsical book, James Geary explores every facet of wittiness, from its role in innovation to why puns are the highest form of wit. Geary reasons that wit is both visual and verbal, physical and intellectual: there's the serendipitous wit of scientists, the crafty wit of inventors, the optical wit of artists, and the metaphysical wit of philosophers. In Wit's End, Geary embraces wit in every form by adopting a different style for each chapter; he writes the section on verbal repartee as a dramatic dialogue, the neuroscience of wit as a scientific paper, the spirituality of wit as a sermon, and other chapters in jive, rap, and the heroic couplets of Alexander Pope. Wit's End agilely balances psychology, folktales, visual art, and literary history with lighthearted humor and acute insight, drawing upon traditions of wit from around the world. Entertaining, illuminating, and entirely unique, Wit's End demonstrates that wit and wisdom are really the same thing.
6:00P: Amy Shira Teitel, Fighting for Space & Breaking the Chains of Gravity
Spaceflight historian, author, YouTuber, and space personality, Amy Shira Teitel discusses the history of space flight, the space program, and all things Vintage Space.
About Fighting for Space: A book that will appeal to readers of Fly Girls and The Astronaut Wives' Club, Fighting for Space is the mostly-unknown tale of Jackie Cochran and Jerrie Cobb--two accomplished aviatrixes, one generation apart, who each dreamed of being the first woman in space, but along the way battled their egos, their expectations, and ultimately the patriarchal society that stood between them and the stars. Fighting for Space is a dual biography of these fascinating and fearless women, using their stories as guides through the changing social, political, and technical landscape of the time.
Author Visit: Rebecca Behrens
Build your own survival kit and see if you can ace Rebecca's Survival Quiz!
(Time TBD)
About the Book
Hatchet meets The Babysitters Club in this epic and thrilling survival story about pushing oneself to the limit in the face of a crisis.
Twelve-year-old Hannah Steele doesn't mind babysitting after school. She just took a babysitting class, and her charges Zoe and Oscar are basically her next door neighbors, so it's really no big deal.
But then the shaking begins. Pottery topples. Furniture lurches across the floor. Glass shatters. The earthquake lasts four whole minutes. It knocks out the power. The stairs collapse. Phone lines are down, cell service is nonexistent. Even worse, the ferry and the bridge aren't running, so their parents can't get back to them. Which means, they're stranded and alone. With Hannah in charge…
About the Author
Rebecca Behrens is the author of three critically acclaimed middle-grade novels that explore famous historical figures and fascinating places: When Audrey Met Alice, Summer of Lost and Found, and The Last Grand Adventure. Her latest release, The Disaster Days, is a thrillingly realistic survival story. Rebecca grew up in Wisconsin, studied in Chicago, and now lives with her husband in New York City. You can visit her online at www.rebeccabehrens.com.
Speed-dating with your new favorite authors!
7:00p
About the Event
Four local authors each get 15 minutes to tell you about their life and work in this one-of-a-kind "author speed-dating" event! Come for one author and meet three new ones! All four authors' books will be for sale for one night only!
This month's Local Author Slam features...
NOELLE POWERS's "Forest Through the Trees". Not a lot happens in Foxboro Wisconsin. Until one cool fall night, tragedy strikes the tight-knit community leaving its residents on edge and forever changed...
JOE MURPHY's "Three Indelible Decades". This humorous memoir tracks the author for three decades—through college, dating, marriage, kids and an eclectic writing career that starts with the Sears catalog...
TRACEY PHILLIPS's "Best Kept Secrets". When Fay Ramsey is found dead, Morgan Jewell's entire world crumbles. Years later, Morgan now a homicide detective, is still haunted by the abrupt end to her best friend's life, but she has failed to put the crooked puzzle pieces together...
and DONNA REWOLINSKI's "Novice Mystery Ireland". Dan Novice, an American detective, and his social worker wife, Karen, now both retired, embark on the promise they made to spend more time together. They have rented a cottage in the quaint Irish village of Ballyram for three months. Their plans include visiting tourist sites, eating out, and interacting with the villagers. It doesn't take long for the plan to be challenged when a prominent villager, Lord O'Connor is murdered and Dan and Karen stumble upon the scene...
6:00pm at Mystery to Me!
This month's book: A KILLER IN KING'S COVE by Iona Wishaw
Poetry Night with Jesse Lee Kerchival, Andrea Potos, Robin Chapman & Don Veach
7 pm
More information to follow!
Author Visit: Steve Hannah
Steve Hannah discusses his new book, Dairylandia, with Doug Moe!
7:00p
About the Book
Years ago, Steve Hannah's chance detour through the Midwest cut short a planned cross-country trip. He found himself in Wisconsin, a distinctly different place from the east coast where he was born and raised. Charmingly beautiful and full of welcoming people, America's dairyland would soon become his home.
Dairylandia recounts Steve Hannah's burgeoning love for his adopted state through the writings of his long-lived column, "State of Mind." He profiles the lives of the seemingly ordinary, yet quite (and quietly) extraordinary folks he met and befriended on his travels. From Norwegian farmers to rattlesnake hunters to a woman who kept her favorite dead bird in the freezer, Hannah was charmed and fascinated by practically everyone he met. These captivating vignettes are by turns humorous, tragic, and remarkable—and remind us of our shared humanity.
About the Author
Steve Hannah is a former managing editor of the Milwaukee Journal and was a longtime CEO of The Onion.
Bad Axe County at the Sun Prairie Library!
John Galligan is bringing his book, Bad Axe County, to the Sun Prairie Library
6:30p
Mystery to Me is proud to be the official bookseller for Bad Axe County and this Sun Prairie Library visit! Stop by to say hello and pick up your very own copy of the book--no overdue fees, guaranteed!
6:00p at Mystery to Me
This month's book will be discussed in English!
The book: BLESS ME, ULTIMA, by Rudolfo Anaya
Author Visit: Jeannine Pitas
Poet Jeannine Pitas discusses her debut collection Things Seen and Unseen!
7:00pm
About the Collection
"The poems in Things Seen and Unseen do what true poetry has always done: they reinvent the world and, in so doing, reinvent ourselves." – Ricardo Sternberg, Poet and Professor Emeritus, University of Toronto
"Pitas creates a universe like a snow globe the size of a planet and delicate as a Christmas ornament. Look inside!" – Ronna Bloom, Poet in Community, University of Toronto
"Jeannine Marie Pitas' absorbing poetry in Things Seen and Unseen turns on its relentless discovery of new myths of self-making. One poem follows another in an unfolding of surprise as stories of the self evolve to confront, transform or where necessary escape the limits, sometimes the terror, of fact." – A.F. Moritz, Poet Laureate of Toronto
About the Author
Jeannine is originally from Buffalo, NY but is fortunate to call many places home. She is the author of three poetry chapbooks and the Spanish-English translator of several Latin American writers. Her translation of I Remember Nightfall by Uruguayan poet Marosa di Giorgio was shortlisted for the 2018 National Translation Award given by the American Literary Translators' Association, and her translation of An Introduction to Octavio Paz by Mexican writer Alberto Ruy Sánchez was published by Mosaic Press in 2018. A graduate of University of Toronto's Centre for Comparative Literature, she currently lives in Iowa and teaches literature, writing, and Spanish at the University of Dubuque. Things Seen and Unseen is her first full-length collection of poetry.
November
Author Visit: Kevin Henkes
Kevin Henkes reads his new book, Penny and Her Sled!
10:30a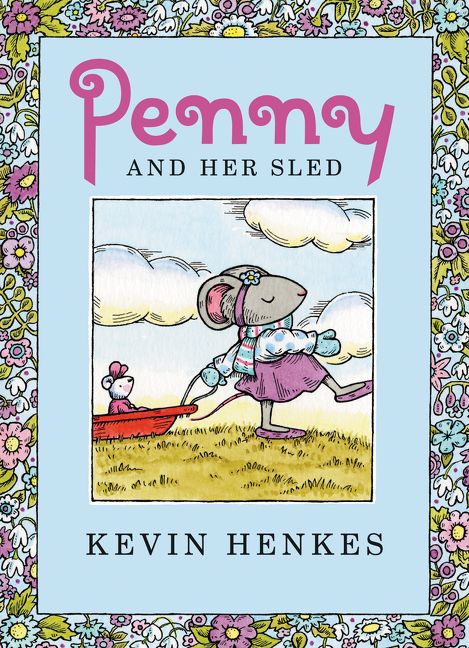 About the Book
When Penny, a sweet and curious mouse, gets a new sled, she can't wait to use it. But there's one big problem—there's no snow!
Patiently, Penny waits and watches for the snow to appear. She puts on her scarf and hat. She sleeps with her mittens. Maybe if she's ready, the snow will finally come. But day after day, the snow does not arrive. Finally, Penny decides she will use her sled for other things—it's too wonderful not to!
With a little imagination, the sled becomes a bridge for her glass animals to cross. It becomes a bed for her doll, Rose. It becomes a magic carpet that takes Penny and Rose on adventures all around the world.
And as Penny waits for a snowfall that may never appear, she learns all about the power of patience, imagination, play . . . and spring! Told in five short chapters, and with an emphasis on family and patience, Penny and Her Sled is the perfect choice for emerging readers and for family sharing.
About the Author
"I've been writing and illustrating children's books for thirty years. It's the only real job I've ever had.
When my work is going well, it's transformative. I feel as if I've been removed from ordinary time and am living in some parallel universe, a world of grace and wonder.
Books are often the first exposure to art that children have. Keeping that in mind urges me to make the very best books possible. I know how important the books from my childhood were (and are) to me. Without them, I might not be a writer and artist today.
Sometimes I'll hear from a parent about how a book of mine has insinuated itself into the heart of his or her child, or how a phrase from one of my books has become part of the family's daily jargon. I love that. But most of all, I love sitting alone in a quiet room drawing and painting and writing. I love my job."
Author Visit: Michael Stanley
Author team Michael Sears and Stan Trolip discuss their book, Shoot the Bastards!
7:00p
About the Book
The dark winter nights of Minnesota seem to close in on investigative journalist Crystal Nguyen as she realizes that her close friend Michael Davidson has disappeared while researching a story on rhino poaching and rhino-horn smuggling in Africa. Crystal, fearing the worst, wrangles her own assignment on the continent. Within a week in Africa she's been hunting poachers ("Shoot the bastards," she's told), hunted by their bosses, and questioned in connection with a murder—and there's still no sign of Michael.
Crystal quickly realizes how little she knows about Africa and about the war between poachers and conservation officers. What she does know is she must find Michael, and she's committed to preventing a major plot to secure a huge number of horns… but exposing the financial underworld supporting the rhino-horn market is only half the battle. Equally important is convincing South African authorities to take action before it's too late—for the rhinos, and for Crystal.
About the Author
Michael Stanley is the writing team of Michael Sears (picture left) and Stanley Trollip (pictured right).
Both are retired professors who have worked in academia and business. Sears is a mathematician, specializing in geological remote sensing. Trollip is an educational psychologist, specializing in the application of computers to teaching and learning, and a pilot. They were both born in South Africa.
They have been on a number of flying safaris to Botswana and Zimbabwe, where it was always exciting to buzz a dirt airstrip to shoo the elephants off. They have had many adventures on these trips including tracking lions at night, fighting bush fires on the Savuti plains in northern Botswana, being charged by an elephant, and having their plane's door pop open over the Kalahari, scattering navigation maps over the desert. These trips have fed their love both for the bush, and for Botswana.
It was on one of these trips that the idea surfaced for a novel set in Botswana.
Striding Lines at Middleton Public Library
6:30pm
Mystery to Me is proud to be the official bookseller for Bobbie Malone's book, Striding Lines, at the Middleton Public Library, where she will be in conversation with Rumi O'Brien!
Jon Etter reads from The Dreadful Fairy Book!
10:30a
About the Book
Readers, beware: what you hold in your hands is a dreadful fairy book.

I wish I were narrating almost any other fairy story, but alas, this is my lot. Whatever expectations you have of delightful and whimsical fairies are sure to be disappointed. There are certainly fairies, but most are not proper fairies. Some who are supposed to be nasty are disappointingly nice, while some who should be kind and helpful are disconcertingly surly, dishonest, and generally unpleasant company.


Our heroine is, perhaps, the worst offender—a sprite more interested in books than carefree games, who insists on being called Shade even though she has the perfectly lovely fairy name of Lillyshadow Glitterdemalion. She is on a quest, albeit with rather questionable companions, to find a place she can call home. A place of companionship, comfort, and, most importantly, positively filled with books.
About Jon Etter
Jon Etter grew up in the cornfields of Illinois on a farm just outside of the town of Forrest (Population: 1300 and some dogs), where he spent most of his time devouring books in the local library. After high school, he earned a B.A. in English Education from Illinois State University and had the pleasure of taking a creative writing class with David Foster Wallace (he remembers Wallace complaining during one of their three-hour night classes about the tedium of reading through the galley proofs of the new book Wallace had coming out, which turned out to be Infinite Jest). Since then, Jon has earned an M.A. in English Literature from University of Wisconsin—Madison and Speech Certification from Carroll University.
Since 1996, Jon has taught thousands of students as a high school English teacher in Wisconsin public schools, first in Sheboygan and for the past ten years in the Milwaukee metro area. In addition to teaching, he has served as a station manager for WSHS 91.7 FM in Sheboygan, coached forensics, and been a faculty advisor for a number of groups including the Gay-Straight Alliance, Philosophy Club, Film Club, and Dungeons & Dragons Club.
In 1991, Jon won the Vermilion County Writers Guild Contest for high school writers and has largely rested on his laurels ever since. Over the years, he has occasionally managed to get off his behind and get some writing done (see Publications and Productions page).
Thank You Notes: An Evening of Storytelling

7:00pm
Beginning on November 1st , Mystery to Me will be home to a Thank You Card Station, where we encourage you to write thank-you notes to the people, places, and things you're thankful to have in your life. Notes will be posted in the store for all to see, and we'll ask you to provide us with your email address so that we can contact you about the Thank You Notes culminating event…live storytelling!
On Thursday, November 21st, Mystery to Me will host a storytelling hour featuring the long versions of our favorite Thank You Notes. You'll laugh, you'll cry, you'll feel very warm and fuzzy.
December
No Mystery to Me Book Club