Past Events
May
Virtual Author Visit: Grant Snider
7:00p
About the Book
A look at the culture and fanaticism of book lovers, from beloved New York Times illustrator Grant Snider
It's no secret, but we are judged by our bookshelves. We learn to read at an early age, and as we grow older we shed our beloved books for new ones. But some of us surround ourselves with books. We collect them, decorate with them, are inspired by them, and treat our books as sacred objects. In this lighthearted collection of one- and two-page comics, writer-artist Grant Snider explores bookishness in all its forms, and the love of writing and reading, building on the beloved literary comics featured on his website, Incidental Comics. With a striking package including a die-cut cover, I Will Judge You By Your Bookshelf is the perfect gift for bookworms of all ages.
About the Author
Grant Snider is an orthodontist by day and an artist by night. His comics have been featured in the Kansas City Star, the New York Times, and The New Yorker, as well as The Best American Comics 2013 anthology. He lives in Wichita, Kansas, with his wife and four children. Visit him online at incidentalcomics.com.
Virtual Author Visit: Sara Paretsky
About the Virtual Book Club:
DEAD LAND publishes on April 21st! Pre-order your copy from Mystery to Me or from our Bookshop page!
April 20 update: We have switched this event from Zoom to Crowdcast! This means we now have 100 "screen spots" available! Simply click on the "Register here" link above to join the livestream on May 4th!
About the Book:
Chicago's legendary detective, V.I. Warshawski, knows her city's rotten underbelly better than most, but she's unable to avoid it when her goddaughter drags her into a fight over lakefront land use, in this propulsive novel from New York Times bestseller Sara Paretsky.
Chicago may be the city of broad shoulders, but its political law is "Pay to Play." Money changes hands in the middle of the night, and by morning, buildings and parks are replaced by billion-dollar projects.
Chicago PI V.I. Warshawski gets pulled into one of these clandestine deals through her impetuous goddaughter, Bernie Fouchard. Bernie tries to rescue Lydia Zamir, a famed singer-songwriter now living on the streets; Zamir's life fell apart when her lover was murdered next to her in a mass shooting at an outdoor concert. Not only does Bernie plunge her and V.I. headlong into the path of some ruthless developers, they lead to the murder of the young man Bernie is dating. He's a computer geek working for a community group called SLICK.
V.I. is desperate to find a mysterious man named Coop, who roams the lakefront in the middle of the night with his dog. She's sure he holds the key to the mounting body count within SLICK. Coop may even know why an international law firm is representing the mass murderer responsible for Lydia's lover's death. Instead, the detective finds a terrifying conspiracy stretching from Chicago's parks to a cover-up of the dark chapters in America's meddling in South American politics. Before she finds answers, this electrifying novel pushes V.I. close to the breaking point: People who pay to play take no prisoners.
April
4:00p
Register here for Bookseller Happy Hour!
We miss you so very much, and we know you're missing the bookstore. So we're bringing you inside!
You can leave us a question, comment, or recommendation request in the chat screen before the Happy Hour begins, so feel free to leave us a note. (Please be advised: if you need/want your books before Happy Hour, call us at 608.283.9332 instead.)
Part of our happy hour will include spotlights on books that've published while we've had our doors closed. So if you're curious about new releases, this event is for you!
Virtual Book Club: Nashville's Songwriting Sweethearts
About the Virtual Book Club:
Nashville's Songwriting Sweethearts is now available at Mystery to Me! Order directly from us by pre-ordering on our website! Bobbie and Bill will discuss the book and answer any questions you may have. Please note: "screen spots" can include all the Malone fans in your quarantine pod; you do not need to reserve two spots for two people if you will both be tuning in from the same screen.
About the Book:
You might not know the names of Boudleaux and Felice Bryant, but you know their music. Arriving in Nashville in 1950, the songwriting duo became the first full-time independent songwriters in that musical city. In the course of their long careers, they created classic hits that pushed the boundaries of country music into the realms of pop and rock. Songs like "Bye Bye Love," "All I Have to Do Is Dream," "Love Hurts," and "Rocky Top" inspired young musicians everywhere. Here, for the first time, is a complete biography of Nashville's power songwriting couple.
In Nashville's Songwriting Sweethearts, authors Bobbie Malone and Bill C. Malone recount how Boudleaux and Felice, married in 1945, began their partnership as itinerant musicians living in a trailer home and writing their first songs together. In Nashville the couple had to deal with racism, classism, and in Felice's case, sexism. Yet through hard work and business acumen—and a dose of good luck—they overcame these obstacles and rose to national prominence.
Yet Another April Newsletter
March
Author Visit: Eric Sarno with Doug Moe
7:00p
About the Book
Eric Sarno was an elite amateur triathlete, race director, successful bio-pharmaceutical sales representative and single father of two young daughters when the unthinkable happened—he suffered a near-fatal stroke. In this riveting and emotional memoir, he describes his journey to recovery, from re-learning to read to being able to hug his children again.
Even though he had youth on his side, it would at times feel like an impossible journey. He explores with eye-opening honesty his lengthy hospitalization and rehabilitation, moods that swung from desperate to determined, the challenges of returning to work, and his decision to advocate for stroke and brain injury survivors and their families. Stroke Runner: My Story of Stroke, Survival, Recovery and Advocacy is an inspiring story of resilience told with candor, humor and an eye towards helping others.
About the Author
Eric Sarno is a stroke survivor, father, triathlete and advocate.
Donna Leon at the Central Library!
7:00p
Mystery to Me is proud to be the official bookseller
About the Book
When Dottoressa Donato calls the Questura to report that a dying patient at the hospice Fatebenefratelli wants to speak to the police, Commissario Guido Brunetti and his colleague, Claudia Griffoni, waste no time in responding.
"They killed him. It was bad money. I told him no," Benedetta Toso gasps the words about her recently-deceased husband, Vittorio Fadalto. Even though he is not sure she can hear him Brunetti softly promises he and Griffoni will look into what initially appears to be a private family tragedy. They discover that Fadalto worked in the field collecting samples of contamination for a company that measures the cleanliness of Venice's water supply and that he had died in a mysterious motorcycle accident. Distracted briefly by Vice Questore Patta's obsession with youth crime in Venice, Brunetti is bolstered once more by the remarkable research skills of Patta's secretary, Signora Elettra Zorzi. Piecing together the tangled threads, in time Brunetti comes to realize the perilous meaning in the woman's accusation and the threat it reveals to the health of the entire region. But justice in this case proves to be ambiguous, as Brunetti is reminded it can be when, seeking solace, he reads Aeschylus's classic play The Eumenides. As she has done so often through her memorable characters and storytelling skill, Donna Leon once again engages our sensibilities as to the differences between guilt and responsibility.
About the Author
Donna Leon is the author of the highly acclaimed, internationally bestselling Commissario Guido Brunetti mystery series. The winner of the CWA Macallan Silver Dagger for Fiction, among other awards, Donna Leon lived in Venice for many years and now divides her time between Venice and Switzerland.
February
6:00p
This month's read is Miss Pinkerton, by Mary Roberts Rinehart
6:30p
Calling all writers!
Are you a writer? An aspiring writer? Owner of a Twitter account? If any or all of these apply to YOU, then you are invited to Mystery to Me's FLASH FICTION NIGHT!
Join us for an evening of prompts and speed-writing right here in your favorite bookstore! We'll bring the prompts and the wine--all you have to do is bring a notebook, a writing utensil, and your imagination. We'll read three prompts throughout the night, and you'll have 10 minutes to free-write anything you desire. Sharing at the end of the night is entirely optional.
A great way to meet your fellow writers, take a break from that big project you're working on, and maybe (just maybe) find some inspiration in an unlikely place.
As a special treat: all journals and notebooks will be 15% off the night of the event! (Yes! That includes Moleskines!)
See you there!
Local Author Slam Vol. III
7:00p
And we're back!
This month's Local Author Slam brings us poetry,biography, and memoir with STICK FIGURE WITH SKIRT by Cathryn Cofell, ALFRED: THE QUIET HISTORY OF A WORLD WAR II INFANTRYMAN by Louise Endres Moore, MAIDS by Abby Frucht, and FROM BORSCH TO BURGERS by Ruslana Westerlund!
Come for the author you know, and discover two new authors--all in one night!
Bilingual Book Club (English)
6:00p
This month's read is AMERICAN DIRT by Jeanine Cummins. We're reading and discussing this book in English--and it's sure to be a very interesting conversation!
Whether you're a Bilingual Book Club regular or want to join us for the first time--all are welcome!
Author Visit: Lori Rader-Day and Tracey S. Phillips
7:00p
Beloved mystery writers Lori Rader-Day and Tracey S. Phillips come to Mystery to Me in conversation about Lori's newest book, THE LUCKY ONE!
About the book
Most people who go missing are never found. But Alice was the lucky one…
As a child, Alice was stolen from her yard in a tiny Indiana community, but against the odds, her policeman father tracked her down within twenty-four hours and rescued her from harm. In the aftermath of the crime, her family decided to move to Chicago and close the door on that horrible day.
Yet Alice hasn't forgotten. She devotes her spare time volunteering for a true-crime website called The Doe Pages scrolling through pages upon pages of missing and unidentified people, searching for clues that could help reunite families with their missing loved ones. When a face appears on Alice's screen that she recognizes, she's stunned to realize it's the same man who kidnapped her decades ago. The post is deleted as quickly as it appeared, leaving Alice with more questions than answers.
Embarking on a search for the truth, she enlists the help of some amateur sleuths from The Doe Pages to connect the dots and find her kidnapper before he hurts someone else. Then Alice crosses paths with Merrily Cruz, another woman who's been hunting for answers of her own. Together, they begin to unravel a dark, painful web of lies that will change what they thought they knew—and could cost them everything.
Twisting and compulsively readable, The Lucky One explores the lies we tell ourselves to feel safe.
About the Author
Lori Rader-Day is the Edgar Award-nominated and Anthony and Mary Higgins Clark award-winning author of The Lucky One (coming in February), Under a Dark Sky, The Day I Died, Little Pretty Things, and The Black Hour. She lives in Chicago, where she is co-chair of the mystery readers' conference Murder and Mayhem in Chicago and the national president of Sisters in Crime.
Puzzles + Pints at Garth's Brew Bar!
5:00p
Join us down at Garth's Brew Bar for an evening of puzzles and craft beers!
All ages are welcome to join for this pop-up event, and while we don't expect that everyone will finish a whole puzzle in just one hour (feel free to prove us wrong), this will be a fun opportunity to swap some of your old puzzles for other peoples' puzzles! Bring a puzzle you've mastered before, and see if anyone wants to swap one of theirs with you.
We'll also be there selling a few of our favorite puzzles, so if you walk in without one, you may just leave with one....
Kevin Henkes at the Waunakee Public Library!
2:00p
Kevin Henkes is coming to the Waunakee Public Library, and we'll be there selling books!
Join our friends at WPL for storytime with Kevin, then pick up a copy of your favorite book from us!
Drink 'n Draw! @ Garth's Brew Bar
6:00p @ Garth's Brew Bar
Join us for a special pop-up collab event with Garth's Brew Bar!
Bring your own drawing supplies (pencils, paper, markers, paint, chalk, charcoal—all are welcome!) and have a pint while you practice your model-drawing!
POSTPONED: Pajama Party! featuring Goodnight, Madison!
**Rescheduled!**
This event has been rescheduled to
SATURDAY, FEBRUARY 1 at 10:30am
Yes, we're having a Goodnight Madison pajama party in the morning!!

Perfect for little ones up to about 5 years old, you'll get an exclusive first-read of a new book all about your hometown!

Local authors Angie and Ben Buelow wrote Goodnight Madison after being inspired by their vast collection of goodnight books from places they have travelled. What was missing was one that highlighted everything that makes the town they raise their boys in so great! Goodnight Madison is a timeless, beautiful bedtime story showcasing why Madison is the best city to say goodnight to!
January
A (Wintry) Night to Recite
7:00 pm
Back by popular demand, Mystery to Me is delighted to host an encore of A Night to Recite--winter edition!

Join us for an evening of treats, libations, and poetry. The only rule? You must recite! No reading allowed!

Poems of all subjects and lengths are encouraged (although...perhaps no epics.), as are poets of all ages!
10:30a
About the Book

Readers, beware: what you hold in your hands is a dreadful fairy book.
I wish I were narrating almost any other fairy story, but alas, this is my lot. Whatever expectations you have of delightful and whimsical fairies are sure to be disappointed. There are certainly fairies, but most are not proper fairies. Some who are supposed to be nasty are disappointingly nice, while some who should be kind and helpful are disconcertingly surly, dishonest, and generally unpleasant company.
Our heroine is, perhaps, the worst offender—a sprite more interested in books than carefree games, who insists on being called Shade even though she has the perfectly lovely fairy name of Lillyshadow Glitterdemalion. She is on a quest, albeit with rather questionable companions, to find a place she can call home. A place of companionship, comfort, and, most importantly, positively filled with books.
About the Author
Jon Etter grew up in the cornfields of Illinois on a farm just outside of the town of Forrest (Population: 1300 and some dogs), where he spent most of his time devouring books in the local library. After high school, he earned a B.A. in English Education from Illinois State University and had the pleasure of taking a creative writing class with David Foster Wallace (he remembers Wallace complaining during one of their three-hour night classes about the tedium of reading through the galley proofs of the new book Wallace had coming out, which turned out to be Infinite Jest). Since then, Jon has earned an M.A. in English Literature from University of Wisconsin—Madison and Speech Certification from Carroll University.
Since 1996, Jon has taught thousands of students as a high school English teacher in Wisconsin public schools, first in Sheboygan and for the past ten years in the Milwaukee metro area. In addition to teaching, he has served as a station manager for WSHS 91.7 FM in Sheboygan, coached forensics, and been a faculty advisor for a number of groups including the Gay-Straight Alliance, Philosophy Club, Film Club, and Dungeons & Dragons Club.
In 1991, Jon won the Vermilion County Writers Guild Contest for high school writers and has largely rested on his laurels ever since. Over the years, he has occasionally managed to get off his behind and get some writing done
Local Author Slam Vol. II
7:00p
Back by popular demand!
This volume of Local Author Slam includes mystery, poetry, and short stories! Join us for an evening of your favorite local author--stay for your NEW favorite local authors!
Our authors for this L.A.S. are:
Chris Fink
Sandy Stark
Jeff Nania
More info coming soon!
6:00p
This month's book: DEATH AT LA FENICE by Donna Leon
Author Visit: Nick Petrie
7:00 pm
About the Book
THE WILD ONEis the fifth novel in the Edgar Award-nominated, bestselling Peter Ash series, but the first that takes Ash on a mission of mercy outside the U.S. Traveling to the unwelcoming backcountry of Iceland in the dead of winter to locate an eight-year-old boy, this "self-contained unstoppable force" (Library Journal) once again faces down the demons of his own past through an act of redemption. The challenges and violence he encounters in the barren Nordic landscape will test even this seasoned U.S. Marine vet—who does not know the full extent of power wielded by the faceless enemy he is going up against.
The PTSD that has afflicted Ash since his tours of duty in Iraq and Afghanistan is back in full-force, intensifying the chronic buzzing in his head and triggering a debilitating sense of claustrophobia. He feels caged-in and directionless, even at the usual refuge of his girlfriend June's home in Washington State. When Ash gets a call from an old comrade-in-arms asking him to help a wealthy woman who is looking for her grandson, he is reluctant even to take the meeting. But Catherine Price's grief-stricken story pushes all the right buttons: her daughter was killed and her grandson whisked off to Iceland by his father, Erik, who is the prime suspect in the murder. Not seeking retribution, Mrs. Price says she just wants her grandson back.
Things take a hostile turn from the start. When Ash arrives in Reykjavik after a grueling flight, he is detained at customs and immigration as a man from the U.S. Embassy tries to deny him entry into the country—despite his lack of jurisdiction to do so or his refusal to offer an explanation. The Icelandic authorities are slightly more accommodating, and Ash is given two days to remain in the country. But it gets no easier as his first inquiry into Erik's whereabouts turns into a brutal fight in the frigid night outside a club. Undaunted, Ash perseveres, but when he fails to abide by the edict that he leave the country, the hunter becomes the hunted. Ash leaves the capital city and travels farther into the wild countryside in search of the man he believes is a killer and the child he has been asked to save. Even the authorities on his heels or the most powerful storm the country has withstood in a generation will not deter him.
About the Author
NICK PETRIE won a Hopwood Award for short fiction while an undergraduate at the University of Michigan, and his story "At the Laundromat" won the 2006 Short Story Contest in The Seattle Review, a national literary journal. He is the author of four previous novels in the Peter Ash series. His debut, The Drifter, won both the ITW Thriller Award and the Barry Award for Best First Novel, and was a finalist for the Edgar, Anthony, and Hammett awards. His third novel, Light It Up, was Apple iBooks' Thriller of the Year and a finalist for the Barry award. A husband and father, he lives in Milwaukee.
POSTPONED: Author Visit: Jane Reeves
7 pm
***Due to the snowstorm on Friday, January 17, this event is being rescheduled for a later date.
Check back here, on Facebook, and Instagram for the rescheduled date!***
About the Book
A Heart of Gold is an inspiring guide into the practice of Loving Kindness. For anyone who is discouraged by a culture that focuses on scarcity and being busy, Jane offers within these pages a more generous way to live. She opens up a different way of being in the world, a method that is steeped in the practice of Loving Kindness.
Through stories in her own life and many years of being a guide for others, Jane shows how Loving Kindness can revolutionize a life. Loving Kindness is both a way to increase your own happiness and to bring happiness to others. Jane teaches that anyone in the world, anywhere, no matter what age, gender, background, race, or socioeconomic structure can learn how to weave Loving Kindness into ordinary life. Loving Kindness is universal in its accessibility.
About the Author
Jane Reeves is an international retreat leader, author, and teacher of Loving Kindness. Over the past three decades, she has been seeking authentic ways to develop a practice that brings more light, love, and joy into the world. Jane helps people dive deep into the practices of Loving Kindness, applying ancient and modern techniques to encourage spirit work, life design, and meeting wellness aspirations. She helps people to listen to their heart's desires and to embody the path they are on in the present moment.
Jane is the founder of Radiant Jane Retreats and has led over 70 retreats. She and her team lead retreats to Italy where guests experience rich restoration through the culture of Italy, Tuscany, art, history, cuisine, connection, joy and meditation while being surrounded by beauty. Jane also leads retreats throughout the U.S. Jane had her own yoga studio for 30 years and has gradually transitioned toward her current role as retreat producer, holistic life guide, and Loving Kindness teacher.
Bilingual Book Club (Espanol)
6:00p
**Rescheduled from our November 2019 meeting!**
This month's book: LA CASA DE LOS ESPIRITUS by Isabel Allende!
Author Visit: Bobbie Malone in conversation with Rumi O'Brien
7:00p
About the Book
The gnarled branches of a beautiful old plum tree reach toward the sky. A mushroom hunter searches for morels among rolling hills. A small boat is tossed among the tumultuous waves of an angry sea. Striding Lines, an homage to Wisconsin artist and quilter Rumi O'Brien, presents these striking images of her work and many more, accompanied by descriptions that share the stories of each piece in the artist's own words. Each quilt represents a moment, often autobiographical, crafted with whimsy, revealing an inspired talent.
Bobbie Malone reaches beyond the quilts to tell O'Brien's own story, from her initial foray into the quilting world to her developed dedication to the craft. Contributions from leaders in the art, textile and quilting community, including Melanie Herzog and Marin Hanson, contextualize O'Brien's work in the greater community of quiltmakers and artists. This book celebrates the life and ingenuity of a Japanese-born American immigrant whose oeuvre is equally Japanese and Wisconsinite—and entirely distinctive.
About the Author
Bobbie Malone is a historian, author, and editor, and former director of the Office of School Services at the Wisconsin Historical Society. Her most recent biography is Lois Lenski: Storycatcher.
Author Visit: Becky Franzel
7:00p
About the Book
There is no definitive guide on how to deal with trauma. Google does not have a complete answer to "How do I feel better again?" After I found my best friend and high school sweetheart dead, I didn't know what to do or where to go. Instead of going to a therapist, as I probably should have done, I went on a series of disjointed, rambling road trips following the last band we saw together. I did not have a plan. I did not have any expectations. All I knew was I had to keep moving. It was in this constant manic motion that I somehow learned to live again. In this book, I hope to open up a larger discussion on mental health, and tell the story of those who survive past a suicide of a loved one. All proceeds made from this book will go directly towards Survivors of Suicide programs in each of the cities I visited during the year following my high school sweetheart's death (Milwaukee, WI; Madison, WI; New Orleans, LA; St. Louis, MO; Cleveland, OH; Pittsburgh, PA; NYC, NY; Iowa City, IA; Boston, MA; Indianapolis, IA)
About the Author
"In 2016, my high school sweetheart committed suicide (he was a Madison law school student at the time, so Madison holds extra significance to me). In 2017, I decided to follow the last band we saw together, in a rambling, manic quest for reason trying to make sense of his death. I published a book on these trips in 2018 (This Road Must Go Somewhere), then went on a book tour recreating these trips. All proceeds from this book went towards the National Alliance on Mental Illness chapters in each city I visited during that year of self discovery."
December
No Mystery to Me Book Club
SPECIAL EVENT: Pete Souza book signing at Garth's Brew Bar!
6:30p
Book signing with Pete Souza at Garth's Brew Bar on Monroe Street
A joint event with the newest addition to the Monroe Street shopping district: Garth's Brew Bar!
Official White House photographer, Pete Souza, will be joining your favorite booksellers at Garth's for book signing and brew-drinking!
**Please note: Mr. Souza will only sign books purchased from Mystery to Me!**
Books will be available for purchase on site.
An Evening of Readings, Pt. 2
Madison Writers' Studio student readings...part 2!
5:30p
The second evening of Madison Writers' Studio students and works! Join us for wine, light refreshments, and even more readings from the writers you know, love, didn't know about, and will surely love!
Free and open to the public.
Full roster of students and works coming soon!
An Evening of Readings, Pt. 1
Madison Writers' Studio student readings!
5:30p
The first of two evenings celebrating and reading the works of Madison Writers' Studio students!
Free and open to the public, come get to know the writers in your midst over wine, refreshments, and (of course) readings!
A full roster of students and works coming soon!
Author Visit: Allen Eskins
7:00p
About the Book
After fifteen years of growing up in the Ozark hills with his widowed mother, high-school freshman Boady Sanden is beyond ready to move on. He dreams of glass towers and cityscapes, driven by his desire to be anywhere other than Jessup, Missouri. The new kid at St. Ignatius High School, if he isn't being pushed around, he is being completely ignored. Even his beloved woods, his playground as a child and his sanctuary as he grew older, seem to be closing in on him, suffocating him.
Then Thomas Elgin moves in across the road, and Boady's life begins to twist and turn. Coming to know the Elgins—a black family settling into a community where notions of "us" and "them" carry the weight of history—forces Boady to rethink his understanding of the world he's taken for granted. Secrets hidden in plain sight begin to unfold: the mother who wraps herself in the loss of her husband, the neighbor who carries the wounds of a mysterious past that he holds close, the quiet boss who is fighting his own hidden battle.
But the biggest secret of all is the disappearance of Lida Poe, the African-American woman who keeps the books at the local plastics factory. Word has it that Ms. Poe left town, along with a hundred thousand dollars of company money. Although Boady has never met the missing woman, he discovers that the threads of her life are woven into the deepest fabric of his world.
As the mystery of her fate plays out, Boady begins to see the stark lines of race and class that both bind and divide this small town—and he will be forced to choose sides.
About the Author
Allen Eskens is the bestselling author of The Life We Bury, The Guise of Another, The Heavens May Fall, The Deep Dark Descending, The Shadows We Hide, and Nothing More Dangerous. He is the recipient of the Barry Award, Minnesota Book Award, Rosebud Award (Left Coast Crime), and Silver Falchion Award and has been a finalist for the Edgar Award, Thriller Award, and Anthony Award. His books have been translated into 26 languages and his novel, The Life We Bury is in development for a feature film.
Allen has a journalism degree from the University of Minnesota and a law degree from Hamline University. After law school, he studied creative writing in the M.F.A. program at Minnesota State University-Mankato, as well as the Loft Literary Center and the Iowa Summer Writer's Festival. Allen grew up on the hills of central Missouri. He now lives with his wife, Joely, in greater Minnesota where he recently retired after practicing criminal law for 25 years.
November
**RESCHEDULED** Bilingual Book Club (Espanol)
SUNDAY, 11/24 UPDATE:
This Bilingual Book Club meeting has been rescheduled to WEDNESDAY, JANUARY 15, 2020!
El libro este mes es...LA CASA DE LOS ESPIRITUS por Isabell Allende!
Thank You Notes: An Evening of Storytelling

7:00pm
Beginning on November 1st , Mystery to Me will be home to a Thank You Card Station, where we encourage you to write thank-you notes to the people, places, and things you're thankful to have in your life. Notes will be posted in the store for all to see, and we'll ask you to provide us with your email address so that we can contact you about the Thank You Notes culminating event…live storytelling!
On Thursday, November 21st, Mystery to Me will host a storytelling hour featuring the long versions of our favorite Thank You Notes. You'll laugh, you'll cry, you'll feel very warm and fuzzy.
Author Visit: Jon Etter -- cancelled. Please stay tuned for an update!
Jon Etter reads from The Dreadful Fairy Book!
10:30a
**Cancelled**
Our sincere apologies to all the Jon Etter and Dreadful Fairy fans out there!
Unfortunately, some fairies continue to be absolutely dreadful, and Mr. Etter had to see to them.
Please stay tuned for any fairy updates!
Striding Lines at Middleton Public Library
6:30pm
Mystery to Me is proud to be the official bookseller for Bobbie Malone's book, Striding Lines, at the Middleton Public Library, where she will be in conversation with Rumi O'Brien!
Author Visit: Michael Stanley
Author team Michael Sears and Stan Trolip discuss their book, Shoot the Bastards!
7:00p
About the Book
The dark winter nights of Minnesota seem to close in on investigative journalist Crystal Nguyen as she realizes that her close friend Michael Davidson has disappeared while researching a story on rhino poaching and rhino-horn smuggling in Africa. Crystal, fearing the worst, wrangles her own assignment on the continent. Within a week in Africa she's been hunting poachers ("Shoot the bastards," she's told), hunted by their bosses, and questioned in connection with a murder—and there's still no sign of Michael.
Crystal quickly realizes how little she knows about Africa and about the war between poachers and conservation officers. What she does know is she must find Michael, and she's committed to preventing a major plot to secure a huge number of horns… but exposing the financial underworld supporting the rhino-horn market is only half the battle. Equally important is convincing South African authorities to take action before it's too late—for the rhinos, and for Crystal.
About the Author
Michael Stanley is the writing team of Michael Sears (picture left) and Stanley Trollip (pictured right).
Both are retired professors who have worked in academia and business. Sears is a mathematician, specializing in geological remote sensing. Trollip is an educational psychologist, specializing in the application of computers to teaching and learning, and a pilot. They were both born in South Africa.
They have been on a number of flying safaris to Botswana and Zimbabwe, where it was always exciting to buzz a dirt airstrip to shoo the elephants off. They have had many adventures on these trips including tracking lions at night, fighting bush fires on the Savuti plains in northern Botswana, being charged by an elephant, and having their plane's door pop open over the Kalahari, scattering navigation maps over the desert. These trips have fed their love both for the bush, and for Botswana.
It was on one of these trips that the idea surfaced for a novel set in Botswana.
Author Visit: Kevin Henkes
Kevin Henkes reads his new book, Penny and Her Sled!
10:30a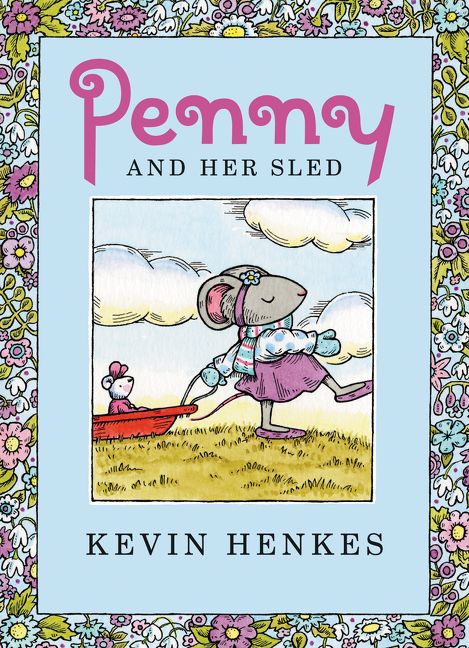 About the Book
When Penny, a sweet and curious mouse, gets a new sled, she can't wait to use it. But there's one big problem—there's no snow!
Patiently, Penny waits and watches for the snow to appear. She puts on her scarf and hat. She sleeps with her mittens. Maybe if she's ready, the snow will finally come. But day after day, the snow does not arrive. Finally, Penny decides she will use her sled for other things—it's too wonderful not to!
With a little imagination, the sled becomes a bridge for her glass animals to cross. It becomes a bed for her doll, Rose. It becomes a magic carpet that takes Penny and Rose on adventures all around the world.
And as Penny waits for a snowfall that may never appear, she learns all about the power of patience, imagination, play . . . and spring! Told in five short chapters, and with an emphasis on family and patience, Penny and Her Sled is the perfect choice for emerging readers and for family sharing.
About the Author
"I've been writing and illustrating children's books for thirty years. It's the only real job I've ever had.
When my work is going well, it's transformative. I feel as if I've been removed from ordinary time and am living in some parallel universe, a world of grace and wonder.
Books are often the first exposure to art that children have. Keeping that in mind urges me to make the very best books possible. I know how important the books from my childhood were (and are) to me. Without them, I might not be a writer and artist today.
Sometimes I'll hear from a parent about how a book of mine has insinuated itself into the heart of his or her child, or how a phrase from one of my books has become part of the family's daily jargon. I love that. But most of all, I love sitting alone in a quiet room drawing and painting and writing. I love my job."
Author Visit: Senator Tim Cullen
Senator Cullen in conversation with Doug Moe
7:00pm
About the Book
There have been many articles and even books written on what happened after General Motors closed its plant in Janesville, Wisconsin in 2008 after some 90 years of operation. Here, for the first time, former Wisconsin state senator—and Janesville native—Tim Cullen tells the inside story of how and why it happened, and what it means for the future not only of Janesville, but cities across America.
Cullen, who co-chaired the governor's task force that tried to save the Janesville plant, provides a sweeping history of the plant from its boom years to the abyss, while noting the struggles African Americans and women faced in getting hired and treated fairly. Along the way he finds some heroes, including an early African American GM employee; a woman who insisted on gender equity in the plant; and Walter Reuther, the legendary labor leader.
Perhaps no one is better qualified than Tim Cullen to tell this important story. Tim worked in the Janesville GM plant as a college student and he was there, decades on, when presidential candidate Barack Obama told a hopeful gathering of GM employees and other stakeholders he would do what he could to ensure its success. Less than a year later, the plant closed. In Disassembled, Tim Cullen reveals what happened.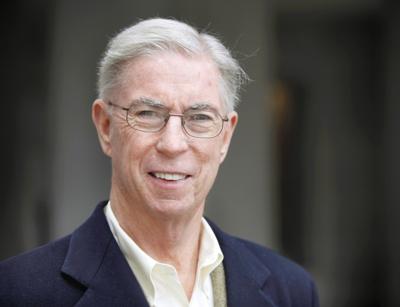 About the Author
Tim Cullen was born and raised in Janesville, Wisconsin. Cullen graduated from UW-Whitewater with a Major in Political Science with a minor in History. The first election he won was to the Janesville City Council in 1970. Four years later Cullen was elected to the State Senate at the age of 30. He went on to become Senate Majority Leader and in 1987 he became Secretary of the Department of Health and Social Services under Governor Tommy Thompson. In 1988 Cullen took a job with Blue Cross and worked with them for the next 20 years. In 2010 he decided to run for his old Senate seat. He was elected and served until 2015. Today Cullen still lives in Janesville and spends his time working with the two foundations he started. Cullen will donate all profits from this book to the Janesville Multicultural Teachers Opportunity Fund he started in 2008. The sole purpose of the Fund is to raise money for college scholarships for Janesville students of color. The goal is to support those students who wish to become teachers and are willing to return to Janesville to teach for at least three years.
October
Author Visit: Jeannine Pitas
Poet Jeannine Pitas discusses her debut collection Things Seen and Unseen!
7:00pm
About the Collection
"The poems in Things Seen and Unseen do what true poetry has always done: they reinvent the world and, in so doing, reinvent ourselves." – Ricardo Sternberg, Poet and Professor Emeritus, University of Toronto
"Pitas creates a universe like a snow globe the size of a planet and delicate as a Christmas ornament. Look inside!" – Ronna Bloom, Poet in Community, University of Toronto
"Jeannine Marie Pitas' absorbing poetry in Things Seen and Unseen turns on its relentless discovery of new myths of self-making. One poem follows another in an unfolding of surprise as stories of the self evolve to confront, transform or where necessary escape the limits, sometimes the terror, of fact." – A.F. Moritz, Poet Laureate of Toronto
About the Author
Jeannine is originally from Buffalo, NY but is fortunate to call many places home. She is the author of three poetry chapbooks and the Spanish-English translator of several Latin American writers. Her translation of I Remember Nightfall by Uruguayan poet Marosa di Giorgio was shortlisted for the 2018 National Translation Award given by the American Literary Translators' Association, and her translation of An Introduction to Octavio Paz by Mexican writer Alberto Ruy Sánchez was published by Mosaic Press in 2018. A graduate of University of Toronto's Centre for Comparative Literature, she currently lives in Iowa and teaches literature, writing, and Spanish at the University of Dubuque. Things Seen and Unseen is her first full-length collection of poetry.
6:00p at Mystery to Me
This month's book will be discussed in English!
The book: BLESS ME, ULTIMA, by Rudolfo Anaya
Bad Axe County at the Sun Prairie Library!
John Galligan is bringing his book, Bad Axe County, to the Sun Prairie Library
6:30p
Mystery to Me is proud to be the official bookseller for Bad Axe County and this Sun Prairie Library visit! Stop by to say hello and pick up your very own copy of the book--no overdue fees, guaranteed!
Trick or Treat Monroe Street
Mystery to Me is an official Treat Stop!
12:00p - 4:00p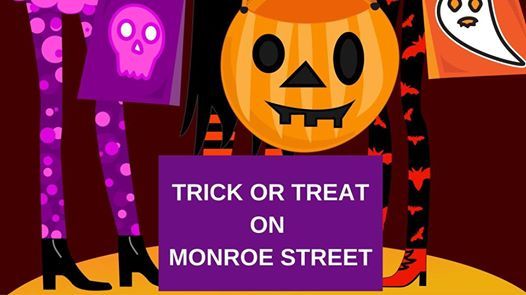 On Sunday, October 27th, Monroe Street is hosting its annual Trck or Treat Monroe Street neighborhood celebration! Mystery to Me is excited to once again join the fun with treats and 20% of Halloween titles. Come on in for something sweet...and soemthing spooky to take home!
To learn more about Trick or Treat Monroe Street, follow this link!
Author Visit: Steve Hannah
Steve Hannah discusses his new book, Dairylandia, with Doug Moe!
7:00p
About the Book
Years ago, Steve Hannah's chance detour through the Midwest cut short a planned cross-country trip. He found himself in Wisconsin, a distinctly different place from the east coast where he was born and raised. Charmingly beautiful and full of welcoming people, America's dairyland would soon become his home.
Dairylandia recounts Steve Hannah's burgeoning love for his adopted state through the writings of his long-lived column, "State of Mind." He profiles the lives of the seemingly ordinary, yet quite (and quietly) extraordinary folks he met and befriended on his travels. From Norwegian farmers to rattlesnake hunters to a woman who kept her favorite dead bird in the freezer, Hannah was charmed and fascinated by practically everyone he met. These captivating vignettes are by turns humorous, tragic, and remarkable—and remind us of our shared humanity.
About the Author
Steve Hannah is a former managing editor of the Milwaukee Journal and was a longtime CEO of The Onion.
Poetry Night with Jesse Lee Kercheval, Andrea Potos, Robin Chapman & Don Veach
7 pm
Four of Madison's favorite poets bring you a night of poetry at Mystery to Me!
Robin S. Chapman's award-winning books of poetry include Six True Things, poems of growing up in the Manhattan Project town of Oak Ridge, Tennessee, and recipient of the Wisconsin Library Association's Outstanding Achievement in Poetry Award; The Way In and Images of a Complex World: The Art and Poetry of Chaos (with J.C. Sprott's fractals and explanations), recipients of the Posner Poetry Award; The Dreamer Who Counted the Dead, a WLA Outstanding Achievement in Poetry Award; and Abundance, recipient of Cider Press Editors' Book Award. She is Professor emerita of Communication Science and Disorders at the University of Wisconsin-Madison and a member of the steering committee of the UW Chaos and Complex Systems Seminar.
Jesse Lee Kercheval is a poet, fiction writer, memoirist and translator. Her latest book is the poetry collection America that island off the coast of France, which won the Dorset Prize. Her other books include The Alice Stories, winner of the Prairie Schooner Fiction Book Prize; the memoir Space, winner of the Alex Award from the American Library Association and The Dogeater, winner of the Associated Writing Programs Award in Short Fiction, just republished in an expanded edition by the University of Wisconsin Press as Underground Women. She is also a translator, specializing in Uruguayan poetry. She is currently the Zona Gale Professor of English at the University of Wisconsin-Madison.
Andrea Potos writes only in longhand in notebooks with the creamiest pages she can find. She will be reading from her latest collection, MOTHERSHELL, and probably a little from A STONE TO CARRY HOME.
Dan Veach is the founder of Atlanta Review and author of Elephant Water and Lunchboxes. His translations from Chinese, Arabic, Spanish and Anglo-Saxon have won the Willis Barnstone Translation Prize and the Independent Publisher Book Award. Editor of Flowers of Flame: Unheard Voices of Iraq (Michigan State University Press, 2008), Dan has performed his poetry worldwide, including Oxford University, People's University in Beijing, the American University in Cairo, and the Adelaide Festival in Australia. He will be reading from his collection, Lunchboxes.
6:00pm at Mystery to Me!
This month's book: A KILLER IN KING'S COVE by Iona Wishaw
Speed-dating with your new favorite authors!
7:00p
About the Event
Four local authors each get 15 minutes to tell you about their life and work in this one-of-a-kind "author speed-dating" event! Come for one author and meet three new ones! All four authors' books will be for sale for one night only!
This month's Local Author Slam features...
NOELLE POWERS's "Forest Through the Trees". Not a lot happens in Foxboro Wisconsin. Until one cool fall night, tragedy strikes the tight-knit community leaving its residents on edge and forever changed...
JOE MURPHY's "Three Indelible Decades". This humorous memoir tracks the author for three decades—through college, dating, marriage, kids and an eclectic writing career that starts with the Sears catalog...
TRACEY PHILLIPS's "Best Kept Secrets". When Fay Ramsey is found dead, Morgan Jewell's entire world crumbles. Years later, Morgan now a homicide detective, is still haunted by the abrupt end to her best friend's life, but she has failed to put the crooked puzzle pieces together...
and DONNA REWOLINSKI's "Novice Mystery Ireland". Dan Novice, an American detective, and his social worker wife, Karen, now both retired, embark on the promise they made to spend more time together. They have rented a cottage in the quaint Irish village of Ballyram for three months. Their plans include visiting tourist sites, eating out, and interacting with the villagers. It doesn't take long for the plan to be challenged when a prominent villager, Lord O'Connor is murdered and Dan and Karen stumble upon the scene...
Mystery to Me at the Discovery Building!
Mystery to Me is proud to be the official bookseller for all Wisconsin Book Festival events at the Discovery Building! To learn more about the festival, follow this link! For a complete list of authors, books, and programs where Mystery to Me will be selling books, check out the schedule below!
10:00am: Korwin Briggs, The Invention Hunters
Learn about machines the fun way! The Magic School Bus meets The Way Things Work in this kid-friendly guide to understanding the basics of simple machines, perfect for budding engineers. The Invention Hunters travel the globe in their flying museum collecting the world's greatest inventions! Today they've landed in a construction zone. These silly scientists think they've stumbled on incredible specimens of everything you'd never find at a building site, from roller skates and pogo sticks to swords and race cars. But what they really discover–with a kid as their guide–is how simple machines like pulleys, cranks, and levers are used to engineer tools ranging from jackhammers to dump trucks…and even toilets! Using simple explanations and diagrams and a heaping helping of humor, the Invention Hunters make the perfect companions for curious kids who are ready to learn about science, physics, engineering, history, and more.
11:00A: Dean Robbins, The Astronaut Who Painted the Moon
Journey to the moon on the Apollo 12 mission with Alan Bean, the fourth astronaut to walk on the lunar surface and the only artist to paint its beauty firsthand! As a boy, Alan wanted to fly planes. As a young navy pilot, Alan wished he could paint the view from the cockpit. So he took an art class to learn patterns and forms. But no class could prepare him for the beauty of the lunar surface some 240,000 miles from Earth. In 1969, Alan became the fourth man and first artist on the moon. He took dozens of pictures, but none compared to what he saw through his artistic eyes. When he returned to Earth, he began to paint what he saw. Alan's paintings allowed humanity to experience what it truly felt like to walk on the moon. Journalist and storyteller Dean Robbins's tale of this extraordinary astronaut is masterful, and artist Sean Rubin's illustrations are whimsical and unexpected. With back matter that includes photos of the NASA mission, images of Alan's paintings, and a timeline of lunar space travel, this is one adventure readers won't want to miss!
12:00P: Azra Raza, The First Cell
In the spring of 1998, acclaimed oncologist Azra Raza had been treating leukemia patients for nearly two decades. But it wasn't until her own husband was diagnosed with, and eventually died from, leukemia that she realized how unbearable the disease could be. From the fear of an unexpected lump, through torrential sweats, horrible lesions, and excruciating pain, to his last moments with their young daughter, Dr. Raza bore witness—as so many have—to her husband's deterioration at the hands of the disease and the drugs used to treat it. And she did it knowing that his likelihood of survival was close to zero.
1:30P: Amir Alexander, Proof!
An eye-opening narrative about how geometric principles fundamentally shaped our world. On a cloudy day in 1413, a balding young man stood at the entrance to the Cathedral of Florence, facing the ancient Baptistery across the piazza. As puzzled passers-by looked on, he raised a small painting to his face, then held a mirror in front of the painting. Few at the time understood what he was up to; even he barely had an inkling of what was at stake. But on that day, the master craftsman and engineer Filippo Brunelleschi would prove that the world and everything within it was governed by the ancient science of geometry.
3:00P: John Hildebrand, Long Way Around
All rivers are connected . . .
So begins John Hildebrand's unforgettable journey through America's heartland in a small boat. Inspired by tales of a mythic Round River, a circular stream where "what goes around comes around," he sets off to rediscover his home state of Wisconsin. He finds a place in the midst of an identity crisis, torn by political divisions and the widening gulf between city and countryside.
Cobbling rivers together, from the burly Mississippi to the slender wilds of Tyler Forks, Hildebrand navigates the beautiful but complicated territory of home. In once prosperous small towns he discovers unsung heroes—lockmasters, river rats, hotelkeepers, mechanics, environmentalists, tribal leaders, and perennial mayors—struggling to keep their communities afloat. Hildebrand charts the improbable oxbows along the course of history, which is neither a straight line nor inevitable. In Long Way Round we find possibility around the next bend.
4:30P: James Geary, Wit's End
Much more than a knack for snappy comebacks, wit is the quick, instinctive intelligence that allows us to think, say, or do the right thing at the right time in the right place. In this whimsical book, James Geary explores every facet of wittiness, from its role in innovation to why puns are the highest form of wit. Geary reasons that wit is both visual and verbal, physical and intellectual: there's the serendipitous wit of scientists, the crafty wit of inventors, the optical wit of artists, and the metaphysical wit of philosophers. In Wit's End, Geary embraces wit in every form by adopting a different style for each chapter; he writes the section on verbal repartee as a dramatic dialogue, the neuroscience of wit as a scientific paper, the spirituality of wit as a sermon, and other chapters in jive, rap, and the heroic couplets of Alexander Pope. Wit's End agilely balances psychology, folktales, visual art, and literary history with lighthearted humor and acute insight, drawing upon traditions of wit from around the world. Entertaining, illuminating, and entirely unique, Wit's End demonstrates that wit and wisdom are really the same thing.
6:00P: Amy Shira Teitel, Fighting for Space & Breaking the Chains of Gravity
Spaceflight historian, author, YouTuber, and space personality, Amy Shira Teitel discusses the history of space flight, the space program, and all things Vintage Space.
About Fighting for Space: A book that will appeal to readers of Fly Girls and The Astronaut Wives' Club, Fighting for Space is the mostly-unknown tale of Jackie Cochran and Jerrie Cobb--two accomplished aviatrixes, one generation apart, who each dreamed of being the first woman in space, but along the way battled their egos, their expectations, and ultimately the patriarchal society that stood between them and the stars. Fighting for Space is a dual biography of these fascinating and fearless women, using their stories as guides through the changing social, political, and technical landscape of the time.
Author Visit: Rebecca Behrens
Build your own survival kit and see if you can ace Rebecca's Survival Quiz!
10:30a
About the Book
Hatchet meets The Babysitters Club in this epic and thrilling survival story about pushing oneself to the limit in the face of a crisis.
Twelve-year-old Hannah Steele doesn't mind babysitting after school. She just took a babysitting class, and her charges Zoe and Oscar are basically her next door neighbors, so it's really no big deal.
But then the shaking begins. Pottery topples. Furniture lurches across the floor. Glass shatters. The earthquake lasts four whole minutes. It knocks out the power. The stairs collapse. Phone lines are down, cell service is nonexistent. Even worse, the ferry and the bridge aren't running, so their parents can't get back to them. Which means, they're stranded and alone. With Hannah in charge…
About the Author
Rebecca Behrens is the author of three critically acclaimed middle-grade novels that explore famous historical figures and fascinating places: When Audrey Met Alice, Summer of Lost and Found, and The Last Grand Adventure. Her latest release, The Disaster Days, is a thrillingly realistic survival story. Rebecca grew up in Wisconsin, studied in Chicago, and now lives with her husband in New York City. You can visit her online at www.rebeccabehrens.com.
Joshua D. Mezrich, M.D., When Death Becomes Life
In partnership with the Wisconsin Book Festival, Mystery to Me is proud to be the official bookseller for Josh Mezrich's When Death Becomes Life!
5:30p at the Discovery Building, DeLuca Forum
About the Book
The miracle of organ transplants straddles the line between heartbreak and hope—one person's life extended through the tragedy of another's loss. Joshua D. Mezrich, a transplant surgeon at the University of Wisconsin, witnesses this complex miracle with everyday regularity, and in his eloquent and illuminating new book, When Death Becomes Life: Notes from a Transplant Surgeon this dedicated doctor and elegant writer weaves stories from his own awe-inspiring work into a history of the medical advances that have made the extension of many lives possible.
Madison Storytellers: Books That Changed My Life
Madison Storytellers brings live storytelling to Mystery to Me!
Reserve your seat here!
7:00pm
The Madison Storytellers bring live storytelling to Mystery to Me, featuring five phenomenal stories about "Books that Changed My Life"! The storytellers and books featured in this evening's event are:
ALEXANDRIA DELCOURT - One Hundred Years of Solitude (Gabriel Garcia Marquez)
ALI MULDROW - Pleasure Activism (Adrienne Maree Brown)
BILL STORK - It's Not About the Bike (Lance Armstrong)
HAYWOOD SIMMONS - The Egoscue Method of Health Through Motion... (Peter Egoscue)
MUIRREYAH DE LA O - Smashed: Story of a Drunken Girlhood (Koren Zalickas)
Reserve your seats on Eventbrite!